Future Global Crisis
Our future is at risk with the declining economy.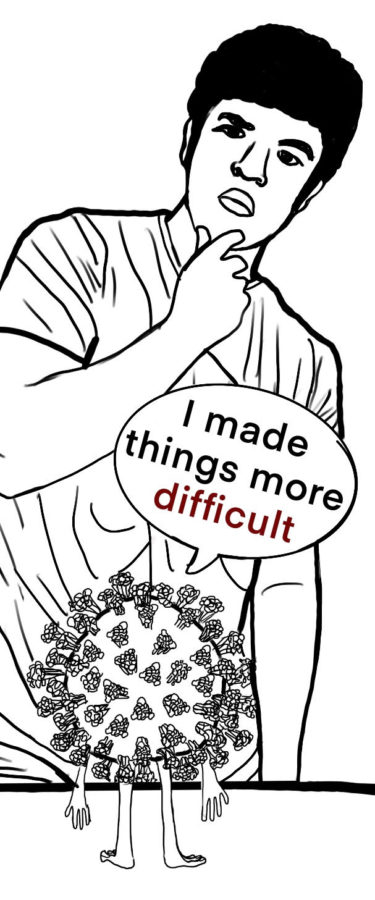 It is only natural for academics to be a top priority for high school students. With increases in workload and responsibilities, each good grade and achievement comes at the expense of time, effort, and dedication.
However, so preoccupied with the troubles inside our safe, little cocoon that is JIS, we tend to forget about the impact of real-world problems on our daily lives and eventual future. Today, one of these significant problems stems from the changing global economy.
According to the International Monetary Fund (IMF), global growth is bound to slow to 2.7% by 2023. This is a sharper-than-expected decline compared to this year's growth of 3.2% and 2021's 6.0%, with inflation higher than seen in decades. Aside from the economic crisis at the peak of the pandemic, it also conveys the weakest growth profile since 2001.
"Global growth is slowing sharply," says the World Bank Group President David Malpass. "My deep concern is that these trends will persist, with long-lasting consequences that are devastating for people in emerging market and developing economies."
Different yet diversely interconnected factors contribute to such dire trends in global growth. The lingering effects of the pandemic are no exception. With the worldwide health crisis, many countries witnessed the most extensive restriction of civil liberties since the end of World War Il. This includes the extended paralysis of nearly 90% of the world's economic activities.   
In 2020, world trade contracted by nearly 15% amid reduced global demand and supply chain disruptions, causing 97 million people to fall below the extreme poverty line. As stated by JIS Social Studies and Global Perspectives teacher Matthew Foster, "Excess spending has been curtailed; many people lost jobs and ended the period with serious debt." Achieving a complete economic recovery from the depths at which countries have plummeted during the first half of 2020 is a challenging feat.
A more recent event critical to global growth is the war between Russia and Ukraine. As it prolongs, international raw material prices soar. Food and fuel prices have skyrocketed, causing substantial economic damage in both developed and underdeveloped countries. Avi Hazuria, a JIS alumni and expert in finance, accounting, and information management, claims, "There will be further decline [in the global economy] if fuel, food, and commodity prices continue to go up without controls alongside the extended war in Ukraine."
Brent—which prices three-quarters of the world's trade oil supplies—is the leading global price benchmark for Atlantic basin crude oils. However, its prices have risen over 3% with the Russo-Ukrainian War, exceeding $100 per barrel. In addition to the economic strife caused by the pandemic, this surge in oil prices contributes to escalating inflation, overwhelming and burdening consumers.
Another essential determining factor for global growth is climate change. With heatwaves exceeding 40 degrees Celsius since June, France, England, and Italy have restricted the use of tap water due to severe droughts. Similarly, the United States has suffered from wildfires to heavy rains pouring down on desert areas. Meanwhile, experts predict that East Asia will suffer more damage from floods in the near future. As of now, it is estimated that nearly 132 million people will be living in extreme poverty by 2030 due to collateral damage and limited food stock from extreme climate change.
Although many governments and businesses are attempting eco-friendly and sustainable goals, such as achieving net-zero emissions by 2050, this does not come without a price. As mentioned by IB Business Management and AP Macroeconomics teacher James Anderson, "The 'Green' economy in the EU and US has higher costs. Higher energy costs result in higher prices for all goods and services."
Unfortunately, this bleak outlook on the global economy is not something that can be easily avoided, especially for the graduating class of 2023. Mr. Foster warns that with "changes in the job market", "limited opportunities for work", and the "predatory nature of firms", the cost of living is constantly rising. Mr. Anderson concurs: "It will be a difficult time to get out on your own. Day-to-day costs will strap one's expendable income. Travel will be expensive, so trips home from university will also decrease."
Senior Adam F. acknowledges that one of his biggest worries is how "hopelessly expensive things might get" after he graduates from JIS. Junior Vedika J. also emphasizes that, alongside increasing house and tuition fees, the prices of taking tutoring lessons, summer programs, college courses, SAT, and IB exams have accumulated far too quickly within the span of a year. Although she and her family have been "saving up money for college", they have been "completely clueless about the pre-requisite expenses required for getting into a good university."
Despite this ongoing list of prices to be paid, many students are still unaware or unsure of such economic burdens ahead of them. This is mainly because most of them rely on their parents for financial support after high school. "I don't handle any finances in the house," says junior Adrienne P. "My parents insist that they do it. Meanwhile, my allowances also stay the same."
Another senior admits that "[his] parents are willing to pay for [his] entire college fund, which puts less worry on [his] side." Junior Devyani C.'s parents have also insisted on "paying for [her] and [her brother's] full fee for attending university."
Clearly, many JIS students are financially comfortable, with most of us fortunate enough to have parents that are capable of paying for us even after graduation. Nonetheless, this is not always the case in many parts of the world; students relying on their parents for financial support and assistance must eventually fend for themselves.
In fact, as stated by the AP and IB Human Geography teacher, Gwen Brunet, "[Generation Z] has the means and knowledge to amass great wealth early on…there are more resources and information about financing as well as more ways to make passive income, which did not exist when I graduated."
Most of us are at risk with the current global economy. Nonetheless, it is also our responsibility to understand and plan for the changes in our society. As we grow older, the world will gradually become more and more different from the one our parents experienced. This leaves us questioning: how can we truly prepare for the future ahead of us?
What tips and strategies do you have for JIS students regarding their finances in the future?
"Spend less than you earn. Start investing early, diversify your investments. Learn how to manage large complex teams of people. Be a good storyteller. Read. Write. And always keep learning."
– Avi Hazuria, JIS Alumni
"Always live within your means, save much, invest in land and real estate, and in green technologies."
– Gwen Brunet, JIS Teacher
"Be adaptable. Be true to yourself.  Don't accept being treated as cheap labor. Know your worth."
– Matthew Foster, JIS Teacher
"Invest in inflation proof investments, such as gold and precious metals, or commodities. Be careful with crypto, get a part-time job at university and establish a monthly budget."
– James Anderson, JIS Teacher
"Avoid debt: credit cards are not your friends! And begin investing early."
– Michael Fox, JIS Teacher
"Have some savings, and invest while you're at school… the best way to improve your finances is to invest your money and let your money work for you!"
– Vanessa, JIS Alumni
About the Contributors
Yujeong O., Managing Editor
With her ever-growing fondness for the English language and art, Katie is an aestheticist who loves to encounter all the beautiful things in the world....
Diego M., Art Director
Staying awake late into the night at the expense of sleep, Diego has always had a great passion for conveying his interpretations and visions through art....