High School, Actually
Spoiler alert: it's nothing like what you see on TV.
While we may be embarrassed to admit it, many of us spent our middle school and years definitely watching Riverdale, Gossip Girl, The Vampire Diaries, or other self-aware bad shows. While it may have been exciting to see characters close to our age act maturely and confidently, these experiences distort your expectations and perception of high school life.
The entertainment we consume has the power to influence our tastes, opinions, standards, and expectations; sometimes for the worse. Seeing "high- schoolers'' act in certain ways on screen can make our own lives seem lackluster in comparison. Fictional teenagers have chiseled bodies, perfect test scores, and lead exciting love lives. This is often accomplished with the aid of frivolous plot lines and 25-year-old actors; we recognize it as fiction, but still, we cannot resist its inevitable influence.
Αcademic Expectations 
Take Gossip Girl for example. Despite the absurdity of certain plotlines, the characters navigate high school with ease and achieve academic success with little to no regard for grades. As stated by student Alexa Z.," What's mainly unrealistic is the amount of time spent on schoolwork. Those people never spend time on any schoolwork."
The characters are rarely seen attending classes. Instead they spend their days partying, getting frisky, and finding their long lost half-brother. Miraculously, the vast majority of these characters are accepted to their dream Ivy League universities. By now we all know that schoolwork is much more demanding than these shows portray, especially when you are actually interested in an Ivy League degree.
Social and Romantic Expectations
Another common expectation portrayed by teen entertainment is that most students maintain a thriving and dramatic love life that never fails to create drama.
According to Katherine L.,"[The teen entertainment industry portrays] romance and breakups to be a big deal, if not the biggest deal in high school. I've found that while some people do date, relationships are only a small part of high school, and there are so many other things to focus on."
In real life, high school romance is less common, less intense and, ironically, less romantic than it is in fiction. To summarize, you don't stop your crush's flight before they move abroad to ask them out. Similarly, break ups aren't as dramatic as they are portrayed. Often it is due to matters like poor communication, wanting to focus on schoolwork, or just not being ready to commit. But there's nothing wrong with that. We're in high school. It is only natural that we haven't figured ourselves out.
Beauty Standards
One of the most damaging expectations perpetuated by the entertainment industry is beauty standards. Certain physical characteristics are often deemed as acceptable, and are frequently associated with different roles. As put by Alexa Z,"I felt like whenever there was a tall character they were always considered the side character… it gave the idea that being tall isn't normal." When discussing her appearance, Alexa notes how,"[it]took a while to realize that my body was great as it was, especially because of Hollywood."
Abby A. further revealed common insecurities as a result of the portrayal of beauty, expressing her envy of those "who fit into society's beauty standards." Abby went on to exhibit the reluctance behind such jealousy,  saying,"I know I shouldn't compare myself [to said beauty standards], but I can't stop… All I think about when I see those girls is how I could fix myself to look like them." The issue at hand affects boys as well. Many love interests or characters portrayed as allegedly attractive males fit a mold of tall and muscular.
Many male love interests or characters are depicted as overly tall and muscular, to characteristics that are not an accurate representation of boy ages 14-18. In an age of awareness surrounding diversity, realistic representation is a focal point of many "progessive" companies. That being said, Eurocentric beauty ideals persist; realistic bodies and minorities still lack sufficient screen time.
The truth is, we don't have glam squads to keep our makeup perfect every few minutes. We don't have nutritionists and personal trainers to ensure we look marketable to our gender. We don't have the budget or option to surgically modify our appearance however we please. Growing up and seeing picture perfect people on posters and entertainment is bound to have a toll on us, especially when we are being held to a standard we were never meant to meet.
Fetishization of Girls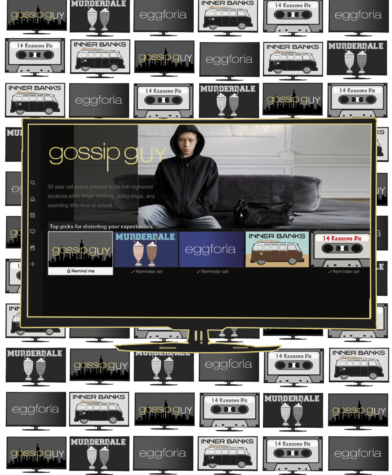 The following problem receives far less attention and awareness than it causes harm: that is, the widespread sexualization of girls across the globe. Especially because this is no new problem. In the Eastern hemisphere, we see it as early as 1899. Even then, entertainment had an unusual focus on the promiscuous activities of teenagers, covering topics such as teenage prostitution and pregnancy.
Over the centuries, Western men's standards for feminine beauty fluctuate between a figure that emphasizes the bosom, the hips, the waist and other voluptuous features to a figure that focuses on androgynous and pre-pubescent features; namely, undefined hips and waist and a boy-like build. That being said, the male gaze has a definite favoritism toward the childlike body.
Films and shows are relevant to this issue because they are a vehicle that continues the fetishization of children. Shows popular amongst the current teenage demographic, some which have been previously mentioned, such as Riverdale, The Chilling Adventures of Sabrina, and Gossip Girl share an abundance of overly explicit intimate scenes. Japanese anime unapologetically zoom into the bosoms and rear areas of both pre-teens and teenagers. Numerically, based on a study by the Parents Television council, underaged girls are depicted in sexual acts 25% more than adults and 93% of these relationships are unhealthy – an obvious power imbalance or one where either or both parties, usually the girl, are harmed by their relationship. That was 12 years ago. Streaming services and entertainment have only gotten more accessible since.
The effects show in the modern treatment of girls. According to a 2018 survey by Plan International UK, around 33% of British girls have been sexually harassed, around the same proportion either touched, groped or grabbed and around 15% stalked home. To make matters worse, harassment and non-consensual touching start as early as eight years old. Wearing a school uniform creates a recognized increased risk of such experiences—this further suggests men's fetishization of underagedgirls.
As students of an international school, especially one as secure as JIS, we study in a sheltered environment. Security waits to escort us from the roads in front and we hang out in large, commercial malls. We tend to travel together with others as many of us may lack proficiency in the local language. Girls at our school may not have had such uncomfortable experiences other than getting ogled in public by unapologetic strangers. However, without our privilege or security, or when we are independent we are exposed to similar threats: catcalling, harassment and stalking caused by men's and corporations' fetishization of our age and gender.
The fetishization of girls, unrealistic expectations in academics and social lives, unhealthy beauty standards, and even the disproportionate effect on those who are younger and female—these are problems responsible for heavy amounts of harm individually. With the widespread accessibility of entertainment, the severity of this harm only continues to escalate. Given the history of the male gaze on minors and the ubiquity of the unrealistic and idealized high school life, these unhealthy perpetuations are unlikely to slow its spread. It may be intimidating to approach such a prominent matter, but we always have to start somewhere. Today, we are starting with awareness.